JSHP  ( e- ISSN: 2597-7342, p-ISSN: 2580-5398 ) is an electronic journal published by the Center of Research and Community Service, Balikpapan State Polytechnic, Indonesia. JSHP Journal provides a media to publish scientific articles from contributors related to (1) Business and Management, (2) Banking and Finance, (3) Vocational Education, (4) Didactics in Higher Education, (5) Tourism and Hospitality, and (6) Social Science.
Articles must be submitted using the Online Submission System

.

Authors need to register with the journal prior to submitting or, if already registered, can simply log in and begin the five-step process.
JSHP publishes 2 (two) issues in a year (January, and July). The submitted article must follow JSHP Template (new template, since Vol 2 No. 2, 2018). JSHP has been indexed by  Google Scholar , Perpusnas, Sinta, and Rujukan Garuda. All published articles will be assigned with a digital object identifier (DOI).
JSHP has been accredited by Ministry of research, technology and higher education of Indonesian in grade 4 of SINTA, Number:30/E/KPT/2019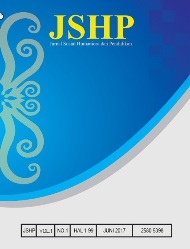 Vol 5, No 2 (2021)
Artikel dalam proses final editing, masih terbuka kemungkinan dibatalkan maupun penambahan artikel.
Table of Contents
Articles
| | | |
| --- | --- | --- |
| | Yusuf Perdana, Ajeng Diah Kinanti, Feni Kurniawati, Syahna Ardani | |
| | | |
| --- | --- | --- |
| | Harries Madiistriyatno, Rizki Afdal | |
| | | |
| --- | --- | --- |
| | Shandra Rama Panji Wulung, Cep Ubad Abdullah | |
| | | |
| --- | --- | --- |
| | Rahmi Yorika, Rizky Arif Nugroho, Elin Diyah Syafitri | |
| | | |
| --- | --- | --- |
| | Fice Handayani, Fice Handayani | |
| | | |
| --- | --- | --- |
| | Khairudin ., Ahmad Fauzan, Armiati ., Karmila Suryani | |
| | | |
| --- | --- | --- |
| | Dwi Fitrianingsih, Retno Widodo Dwi Pramono | |